The Importance of Cleaning and Disinfection
An essential element to keeping your farm free of disease is proper cleaning and disinfection between flocks. Diseases and pathogens can be introduced in numerous ways. Taking the time to clean and properly disinfect can help to reduce health risks and break disease cycles.
Downtime between flocks should be as long as possible.
Cleaning:

Empty feed pans, hoppers and feed bins – and flush water lines.
Remove litter, dust and debris from house.
Use a blower for dust removal, paying special attention to electronic equipment, fan housing, inlets and outlets.
Brush the floor.
Extra care should be taken when cleaning nest boxes.
Wet the house, then spray detergent foam/gel and leave to soak as required, before washing with warm water using a pressure washer.
Wash feed bins inside and out.
Dismantle all possible equipment such as drinkers, feeders, panels and clean.

Disinfecting:
After the house is dry, disinfect using an approved disinfectant at the manufacturers recommended concentration. Spray to the point of run-off.
The choice of disinfectants may be influenced by the disease/ biosecurity status on the farm.
Disinfect all equipment, including feed bins, feed pans, feed hoppers, fans and drinker lines.
Flush water lines and drinkers with fresh, chlorinated water after line disinfecting.

Secondary disinfecting:
To enhance disinfection, fumigation can be useful after the equipment has been put in place. This should be done 2–3 days before placement.
Treat appropriately for insects, e.g. flies, darkling beetles. Rotate insecticide products to avoid build-up of resistance.
Do not enter a clean building without following proper bio- security procedures. Keep doors closed and locked to keep unauthorised visitors and animals from entering the house.
Bring shavings into the house after it is thoroughly dry. Applying shavings to a wet floor can promote the growth of mould. Hygiene testing is useful in monitoring the effectiveness of cleaning and disinfecting.
Clean waterlines, and any supplemental drinkers, thoroughly after every flock.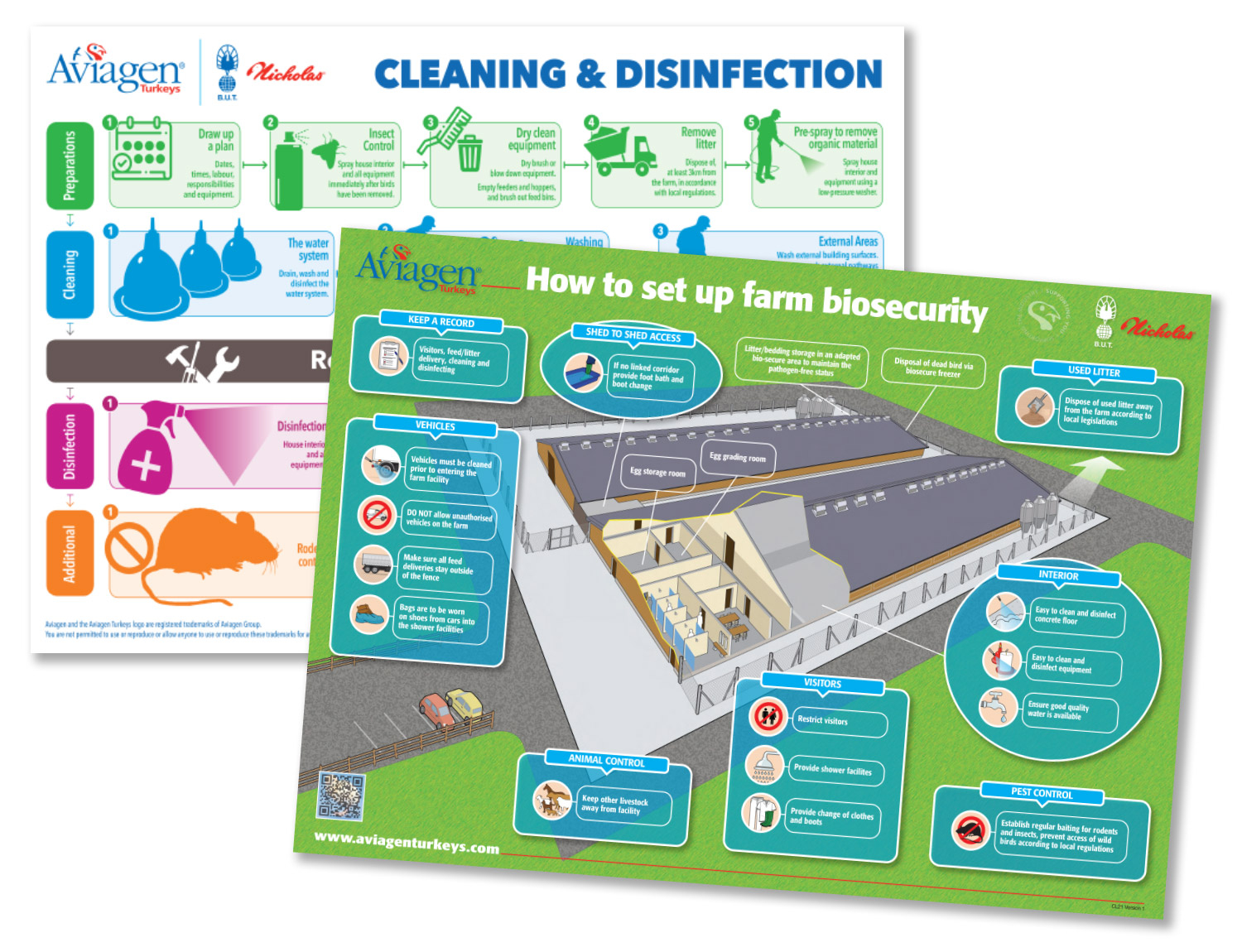 To download our 'Cleaning & Disinfection' and 'Biosecurity' posters, click here >